Nama move 'threat to Northern Ireland businesses'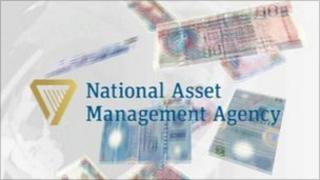 Finance Minister Sammy Wilson believes businesses employing hundreds of people are under threat as Nama looks to get tough with Northern Ireland debtors.
The National Asset Management Agency bought out the toxic debt left in Irish banks after the property crash.
In NI it controls over £3.35bn worth of debt covering an estimated 150 different firms and individuals.
Nama is now poised to start trying to raise funds for the Irish taxpayer who funded the exercise.
It is doing so after spending the first year of its operations absorbing and sorting the bad debt.
Mr Wilson told the BBC's Spotlight programme that this marks a new "dangerous phase".
He said it threatens not just big developers, but a host of businesses who were lured into property deals during the boom, but now find that the loans threaten their trading businesses following the crash.
'Sheep from goats'
"Up until now Nama has really been trying to sort out the sheep from the goats - I think we are entering a much more dangerous phase," Mr Wilson said.
"Now Nama have to decide 'those businesses we have taken in, first of all what are we going to do with the land?' and that's where the fire sale could arise - where they simply try to off-load all of that land onto the market.
"Secondly what do we do with the business. In many, many cases there are real businesses attached to these property loans."
A number of developers have already been forced into receivership by Nama and their properties put onto the market.
But in his first interview for a Northern Ireland audience, Nama's chairman Frank Daly said he does not want to put firms out of business.
"When we send a company or a developer into receivership - and in some quarters that would be perceived as a sort of popular outcome - I actually would personally regard it almost as a failure that we haven't managed to engage with that individual or with that debtor on a co-operative basis and keep them going," he said.
But Mr Daly did not disguise his primary objective of returning money to the Irish taxpayer.
"There will be cases where they are just not viable, and there is no point in sort of stepping away from that, there is just no future and it's in nobody's interest to keep them going.
"We have already spent 31bn euros of taxpayers' money and it's the last thing we can do is throw further good money after bad bank lending."
Spotlight is on BBC1 Northern Ireland at 22:35 GMT on Tuesday.