Deposits are returned in Nama-stalled project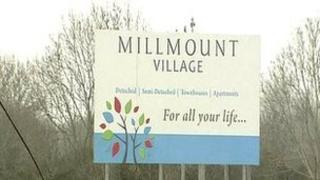 The BBC has learned that around 25 people who agreed to buy houses at an east Belfast development had their deposits returned after the Irish government's National Asset Management Agency (Nama) stalled the project.
The houses were bought off-plan at the 96-acre Millmount site in Dundonald.
Millmount was once owned by a Taggart Brothers company.
It came under an administrator's control appointed by Anglo Irish Bank after the property empire collapsed.
The job of an administrator is to recover money for its client.
Earlier it was thought prospective buyers had deposits returned after Nama got involved, but a Dublin property source has told the BBC that the loans were still with Anglo at that stage.
In this case, the administrator reached a development agreement with leading house builder Lagan Homes.
Lagan's role was to get the site through planning, build the houses and market them.
As part of that deal, Anglo loans, thought to be around £70m, were transferred to a Limited Liability Partnership, Millmount Developments LLP. A Lagan company was a member of that partnership.
The loans were on what is known as a non-recourse basis, meaning that if the project failed, Anglo would simply take the land back rather than trying to recover the full value of the loans.
Around 100 homes received planning permission at the site and up to a quarter of those were agreed for sale. Plans for a further 500 homes are awaiting a decision from planners.
Nama's role is to take over and manage virtually all land and property loans held by the Dublin-based banks.
In late 2010, Nama took over the Millmount loans from Anglo and that is when the complication arose. It is thought Nama did not like the non-recourse nature of the loans.
Earlier this year Nama appointed its own administrator who took control of the LLP, which incorporates the land and the related debt.
That made Lagan's role redundant leaving Nama to decide on the future of the site.
The administrator has recently published his report which states that Nama does not want to get involved in developing the site so it will be up for sale once full planning permission is secured.
A spokesperson on behalf of Lagan Homes said: "Lagan Homes was appointed by the Taggart Homes Limited administrator to manage the planning, construction and sale of residential property at Millmount, Dundonald.
"Unfortunately, due to circumstances beyond Lagan Homes' control it was not possible to progress the site at this stage.
"This was particularly disappointing for prospective purchasers who paid deposits which had to be returned.
"Hopefully, however, now that the site has come under Nama's remit there may be an opportunity to revisit the development."
Nama does not comment on individual cases.