Woman arrested over church food donation theft out on bail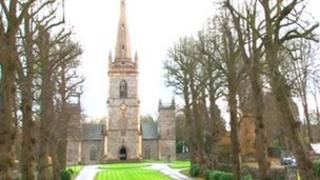 A woman arrested in connection with the theft of food items from the foyer of St Malachy's Church of Ireland in Hillsborough has been released on bail.
The donations of food were for people in need.
They were stolen from St Malachy's church in the village on Sunday.
The 45-year-old woman was arrested on Wednesday at an address in Craigavon, by officers from the Hillsborough neighbourhood policing team.
Reverend Michael Dornan, from the church said the theft has led to considerable financial donations to the church from its own parishioners and further afield.
He described the response as "overwhelming".
"We had a priest come personally from County Tyrone to deliver a donation from his congregation," he said.
"It's been a great blessing, it has pulled together all the churches and we have also had support from local businesses and Lisburn City Council."