Former priest James Donaghy said abuse claims 'ridiculous'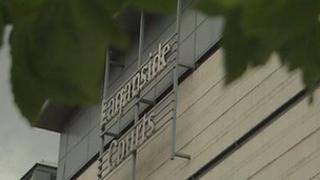 A former priest accused of a series of sex offences told police the allegations were "outrageous" and "ridiculous", a court has heard.
James Martin Donaghy, 53, of Lady Wallace Drive, Lisburn, denies a total of 26 charges.
The offences were allegedly carried out against three males between June 1983 and December 2000.
On Wednesday the jury heard transcripts of police interviews dealing with allegations from one alleged victim.
James Doherty claims that Mr Donaghy abused him when he was an altar boy at the Church of St Michael the Archangel in Finaghy.
He alleges a naked Mr Donaghy got into bed beside him and attacked him.
In the police transcript, Mr Donaghy said of the claim: "I have never ever done that to anybody, never and I resent that being put to me because it's a lie."
He told police that Mr Doherty had never stayed in the parochial house and when asked directly if he had ever had sexual relations with his accuser he replied: "Never and nor was I ever in a position or context or situation where it would have been possible."
Mr Donaghy was also asked about an alleged incident when he had been moved to Corpus Christi in Ballymurphy where Mr Doherty alleges the accused asked him to perform a sex act on him after he exposed himself to the then teenager.
The accused declared "that's a straight lie" and labelled the allegations as "incredible, utterly incredible... that's a complete fabrication, that's a lie".
The trial at Belfast Crown Court is continuing.