Farrans to develop Belfast harbour terminal for DONG Energy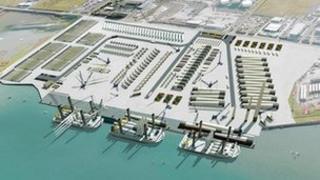 Farrans Construction is to build a new terminal at Belfast Harbour, which will be used to assemble wind turbines.
The firm, which has previously been involved in building Belfast's Odyssey Arena and Victoria Square, hopes 150 construction jobs will be created.
The terminal will initially be leased by DONG Energy and ScottishPower Renewables for the construction of a wind farm off the coast of Cumbria.
DONG Energy will then use it for its future Irish Sea operations
The development will feature a 450-metre quay and a 50-acre logistics centre.
Enterprise Minister Arlene Foster said Belfast Harbour was well placed to become a major centre in the rapidly expanding offshore wind sector over the next 20 years.
"This investment clearly demonstrates DONG Energy's confidence in our local capabilities and underlines Northern Ireland's potential to become a leading player in this sector," she said.
Regional Development Minister Danny Kennedy added: "This key investment project will see the continued regeneration of Belfast's docks and harbour area and provides the basis for Northern Ireland to benefit from a growing national and international renewables market.
The terminal is due to open in 2013.
'Boost'
The chairman of Belfast Harbour, Len O'Hagan, said the terminal was one of the most important developments in the history of Belfast harbour.
"DONG Energy and ScottishPower Renewables are world leaders in renewable energy and their decision to invest in the harbour is a major coup.
"That decision was the result of a long-term investment strategy by Belfast Harbour and we are already pro-actively pursuing other commercial opportunities from within the green sector."
The managing director of Farrans Construction, Eamonn Sweeney, said the firm were delighted to be awarded the project.
"The project is a much-needed boost for Farrans in these difficult times and will provide employment for many within the company and in the supply chain," he said.
"It is a massive scheme requiring in excess of 100,000 tonnes of concrete and 500,000 machine hours, and it is very satisfying to see a local company win this ahead of stiff international competition."
Over 100 turbines, each with a rotor diameter of 120m, will be shipped to Belfast before being transported using two purpose-built installation vessels.
The turbines will be used at the West of Duddon Sands site, off the Cumbrian coast, which will be one of the world's largest offshore wind farms when it is built in 2014.