RUC Troubles killings 'caught in legal limbo'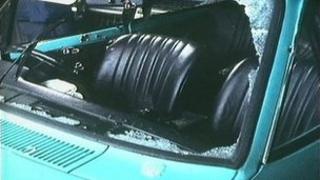 Some of the most controversial Troubles killings cannot be re-investigated as they are caught in a legal limbo.
Nearly 50 cases where RUC officers were responsible for deaths were sent to the police ombudsman four years ago, but no new investigations have happened.
The Historical Enquiries Team passed the files on due to European law.
However, the ombudsman's office has now said domestic legislation means it cannot conduct fresh investigations into whether officers committed crimes.
The Historical Enquiries Team cannot investigate them because European law states investigations into state killings must be fully independent.
As the HET is accountable to the chief constable, it cannot investigate killings by police officers.
As a result, the HET passed the files on 49 such cases to the office of the police ombudsman and as far it was concerned, the cases were being investigated by an independent body.
However, just as European law precludes the HET from investigating deaths caused by police offices, the ombudsman's office says domestic legislation means it cannot conduct fresh investigations to determine whether any of the police officers involved in the 49 killings were guilty of a criminal offence.
That means that no matter whether years were spent investigating some killings, or perhaps just hours probing others, the police ombudsman's office cannot launch any further investigation into what had happened.
"The legislation prohibits the office from re-investigating any matter which has previously been investigated by the police unless there is new evidence," Olwen Laird, the acting chief executive in the office explained.
"The result of that is that we appear to find ourselves in a position where the only matters now which will not be reviewed or reinvestigated are those deaths which occurred as a result of police action."
A Supreme Court case earlier this year confirmed that the office could not re-investigate the cases.
But while concerns about the legal status of the cases were first raised inside the ombudsman's office four years ago, it was only in recent months that it sought independent legal advice, and the families of most of those involved have not been informed.
"We're very conscious that some of the families affected by this will have been traumatised by the loss of their loved one and therefore we needed to be clear about what the position was before we could contact those families. We are now clear and we are now in a position where we can start to engage with the families," Ms Laird said.
IRA members shot
The deaths include some that led to allegations that the RUC was operating a shoot to kill policy.
IRA members Sean Burns, Gervaise McKerr and Eugene Toman were shot dead by members of a specialist RUC unit near Lurgan in November 1982.
The following month, INLA suspects Peter Grew and Roddy Carroll were shot dead near Armagh after being followed across the border by a police surveillance unit.
Other deaths not being investigated are believed to include several people killed by police plastic bullets, like Sean Downes, shot during a Sinn Fein rally in Andersonstown in August 1984, and Keith White, a Protestant shot in Portadown in April 1986.
Paul Holmes, the director of historical investigations for the ombudsmans' office, described the situation as unfair to the families of those killed, but said the office was legally prohibited from acting.
"It's not an equitable position. We'll have deaths for which the Army may have been responsible reviewed by HET, and all manner of deaths that occurred during the Troubles, with the exception of a proportionately small number of deaths for which the police were responsible," he said.
"That seems to me to raise a moral if not a legal issue, it really is something about fairness and equity and that seems to be missing."
The ombudsman now plans to ask Justice Minister David Ford to introduce new legislation to enable its investigators to examine the killings.
Already under intense pressure following a series of revelations about problems within his office in recent months, the fact that Police Ombudsman Al Hutchinson has not notified many of the families about what's going on is likely to lead to more criticism.