PSNI make history with Croke Park GAA match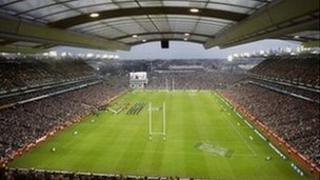 The PSNI Gaelic football team and their Garda counterparts are set to make history with their first match at Croke Park in Dublin.
The Northern Ireland police team has played the Garda team every year since 2002 but Friday's match will be the first at GAA headquarters.
The teams play for the McCarthy Cup, named after 19th century policeman Thomas St George McCarthy.
McCarthy, a Royal Irish Constabulary officer, helped found the GAA in 1884.
The GAA's Rule 21, which banned British security forces from playing Gaelic games, was lifted in 2001.
PSNI Superintendent Gerry Murray, a GAA committee member, said the two police forces had a "very good relationship".
"This is a wonderful occasion for both the Police Service of Northern Ireland and An Garda Siochana teams to be able to play at Croke Park, the headquarters of the GAA," he said.
"Both teams have met on a number of previous occasions and this game will give us another opportunity to test our skills and abilities. We have been training hard and I am optimistic that we will be able to put our tactics to the test."
The PSNI GAA club has also recently taken part in the Police Gaelic Football Tournament in New York which saw teams from the New York Police Department, London Metropolitan and An Garda Siochana compete for the Tom Langdon trophy.