Turkey murders: teenager due back in court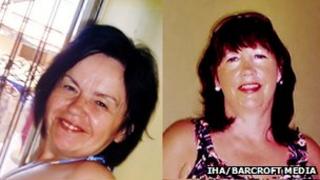 A teenager accused of murdering two County Down women in Turkey is due to appear in court next month for a hearing on whether he should be tried as an adult or a juvenile.
Marion Elizabeth Graham and Kathy Dinsmore, both in their 50s and from Newry, were stabbed to death in a wood near the city of Izmir in August.
Recep Cetin had been in a relationship with Ms Graham's daughter Shannon.
He was arrested a short time later.
He has been remanded on custody since then.
At that time, police sources quoted in the Turkish media said officers believed the waiter stabbed Ms Graham and Ms Dinsmore to death because he had been told that his hopes of marrying Shannon were not acceptable.
Police said the waiter's birth certificate suggested he was 17 years old, however prosecutors believe they have evidence which proves he is over 18.
If the court finds that he should be tried as an adult rather than a juvenile, a guilty verdict would carry a much longer prison sentence.
Ms Graham's former partner, Raymond McGuinness, their daughter Shannon and relatives of Ms Dinsmore are all expected to travel to Turkey for the hearing, which is scheduled to be held on 29 December.