NI faces strike standstill as Translink cancels buses and trains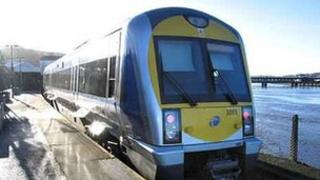 No buses or trains will operate across Northern Ireland next Wednesday, the day of the public sector strike, Translink have confirmed.
Members of the Unite union employed by Translink voted last week to join the 30 November strike action.
Marketing Executive Ciaran Rogan apologised on behalf of the company.
"We are disappointed and regret the impact this will have on our customers but unfortunately this is beyond our control," he said.
"We must be guided by passenger safety first and foremost."
Michael Dornan from the union, Unite, defended the strike action.
"There are people standing out there, losing money, losing a day's pay, but it is for something that they believe they are entitled to," he said.
"We believe we have a right to fight for our pension, it is ours, it should not be robbed from us.
"All we are saying as well as the health and education services is that, regrettably, we are going to take a stand for something we believe we are entitled to."
Mr Dornan said the strike could be averted.
"No-one wants this," he added.
"We didn't take this lightly.
"It is not just about pensions. It is about the economy, about the elderly, about jobs and benefits.
"It is about the manner in which this Tory coalition is running government now."
Translink services will return to normal on 1 December 2011.
The Enterprise train service will operate between Dublin and Dundalk, but it will not operate in Northern Ireland on the strike day.
Translink is awaiting information from the Education and Library Boards to learn their needs for the day and will discuss options for school transport.
Airports
A spokesperson for the George Best City Airport said there would be no direct impact on it as a result of the strike.
"However, passengers connecting to Belfast should be aware of possible disruption at other UK airports," they added.
"We would advise passengers to check with their airlines to find out what arrangements are in place during the planned strike action."
Meanwhile, Belfast International Airport spokesman Uel Hoey said that the strike would not impact unduly on their operations.
"We are fortunate this is happening on a Wednesday in the low season in November," he said.
"The number of international flights coming through Belfast International Airport is relatively low on Wednesday, probably six or seven flights.
"We believe the impact here will be relatively minimal compared to what it will be on some of the other airports in Britain."
Mr Hoey advised passengers to check the websites of the UK Border Agency, airports and airlines to keep abreast of developments.
The assistant regional director of the CBI in Northern Ireland, Kirsty McManus, said that the timing of the strike was "particularly bad".
"Disruption of this sort will cost hundreds of millions of pounds at a time when everyone should be working to help the recovery," she said.
"Now is the time for the Government to legislate to ensure strikes only go ahead when 40% of the balloted workforce support the action, along with a simple majority of those who have voted."