Smithwick Tribunal to hear evidence from Michael McKevitt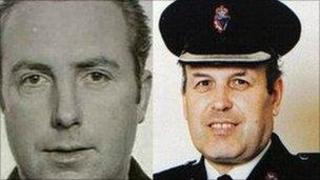 The Smithwick Tribunal is to hear evidence from the convicted Real IRA leader Michael McKevitt on Monday.
Tribunal Chairman Judge Peter Smithwick announced that the tribunal will sit at the Special Criminal Court to facilitate Mr McKevitt.
He is serving a prison sentence at Portlaoise prison for directing terrorism.
The tribunal is investigating allegations of collusion in the murder of two RUC officers in 1989.
Chief Supt Harry Breen and Supt Bob Buchanan were killed in an IRA ambush minutes after they left a meeting in Dundalk Garda Station on 20 March that year.
It is alleged that members of the garda in Dundalk or other employees of the Irish state colluded with the IRA in the killings of the two RUC officers.
On Friday Judge Smithwick also indicated that he is considering whether he should refer the non-attendance of a former Assistant Garda Commissioner to Dublin's High Court.
Kevin Carty assisted in an internal garda probe conducted in the days after the murders, into what garda officers or other State employees knew of the visit of two RUC officers to Dundalk Garda station.
Judge Smithwick described that investigation as the "bedrock of the garda approach to the issue of alleged collusion".
"It is important that I should hear from him as he may have information supportive of the manner in which this investigation was carried out," Judge Smithwick said.
The former Garda assistant commissioner has been living outside the country on a regular basis working with the UN.
In September Mr Carty failed to turn up to give evidence, despite the tribunal having issued a summons and six other forms of correspondence to his Irish address since March of this year.
Judge Smithwick announced that the tribunal had been in contact with Mr Carty and booked and paid for return flights from Armenia to Ireland but that Mr Carty had withdrawn from the agreed arrangement on medical advice.
"In September last, he notified the tribunal that he was living in Armenia", Judge Smithwick said.
"The medical advice is from a doctor in Austria and she gives Mr Carty's address as one in Poland. It is not signed."