Latest: Northern Ireland public sector strikes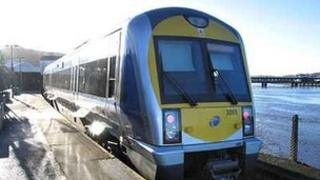 Public sector workers across NI were on strike on 30 November. How did the industrial action affect people here?
What impact did the strike have?
With thousands of workers across NI taking industrial action, there was disruption to health services, education, transport, government offices, job centres, driving tests and council services.
HEALTH: Clinical and medical staff in Northern Ireland hospitals were working - the British Medical Association and Royal College of Nursing were not taking industrial action - but many staff in other unions were taking strike action. The Department of Health said that there was cover for those requiring emergency services, but that non-critical planned procedures and appointments were cancelled.
In the Belfast Trust around 3,500 appointments had to be postponed, but the trust said that it maintainec services at levels agreed with the trades unions. In the Southern Trust around 1,017 out-patient appointments and 140 theatre slots had to be postponed.
SCHOOLS: Around two-thirds of schools across Northern Ireland were closed, although as reporting procedures differ across education and library boards it is difficult to say exactly how many were shut.
The Belfast board reported that around 65% of 170 schools were closed.
In the Western board area most nursery schools were open but only 81 out of 246 schools were open.
Out of the North-Eastern board's 281 schools 113 were open or partially open.
The Southern board said that 106 schools were reported as open out of 300 but the board also said that 90% of its own bus drivers were not on strike.
The South-Eastern board said that 60 schools out of 204 notified the board that they were closing.
Individual schools informed parents about their plans for the day.
TRANSPORT: Translink said that there were no buses or trains running in Northern Ireland for the whole of Wednesday. The PSNI suspended enforcement of bus lanes across NI, with the exception of the motorway bus lanes.
Both Belfast International Airport and George Best Belfast City Airport said the strikes did not have a significant impact on flights or arrangements for passengers.
COUNCILS: The picture differed across Northern Ireland's 26 councils. Many services delivered by councils across NI did not go ahead on Wednesday. Many bin collections were cancelled, while many leisure centres, community centres and public toilets closed. Belfast City Council, for example, published full details of their services affected on their website. However, BBC correspondents reported that council services, like street-cleaning and bin collections, were taking place in other areas. However, this was the main area of disruption for Moyle District Council as 36 staff out of a workforce of 102 did not turn in for work.
COURTS: Trials at Belfast Crown Court took place. However, the courts were manned by more senior staff than normal, as a number of staff joined the day of action. A spokesman for the court service claimed that the picture was somewhat similar over the rest of the court jurisdictions throughout NI, with courts operating almost as normal, but with a reduced staff, drawn mainly from more senior, or managerial ranks.
Union members held pickets, marches and rallies throughout the country. The main Northern Ireland rally took place in Belfast city centre.
What about other shops and businesses?
The vast majority of shops and businesses were open, and many of the big private sector employers wroked as normal, but they were contingency plans in place to help staff affected by strike action:
Why have the strikes been called?
Because of proposed changes to pensions for public sector workers, and spending cuts. It's mainly about pensions - as people live longer, the cost of funding public sector pensions is "unsustainable", says the government. It wants most public sector workers to:
pay more into their pensions
work for longer
and accept a pension based on a "career average" salary, rather than the current final salary arrangement which many of them are currently on
Unions, however, say the proposals will leave their members paying more and working longer for less.
Who is taking part in the strikes?
The TUC is co-ordinating the national day of action which will see members of unions representing a wide range of public sector workers taking part.
In Northern Ireland the main unions taking part are: the Northern Ireland Public Service Association (NIPSA), Unite, UNISON, the teacher's union NASUWT, the National Union of Teachers, the Association of Teachers and Lecturers, the National Association of Head Teachers and the Irish National Teachers Organisation.
As well as those working in health, education, transport and the civil service, workers in local councils, the assembly, the PSNI, Human Rights Commission, the Equality Commission and the Labour Relations Agency and a host of other non-departmental public bodies are also expected to take strike action.
Who supports the strikes?
Not the government. Ministers insist talks over the pension changes are still ongoing and therefore it is unjustifiable to take action now.
The government says the strikes could cost the UK £500m and lead to job losses. But the unions called the figures "fantasy economics" and accused the government of scaremongering.
Members of Sinn Fein and the SDLP have expressed support for the strike action and have said their MLAs will not cross the picket lines. The DUP say that their MLAs will work as normal. The UUP and Alliance Party will let each member make their own decision about whether to strike.
What's happening with public sector pensions?
The government wants public sector workers - bar the armed forces, police and fire service - to receive their occupational pension at the same time as the state pension in future. Many can currently receive a full pension at 60. The state pension age is due to rise to 66 for both men and women by April 2020. Under government plans, workers - on average - would have to pay 3.2 percentage points more in annual pension contributions phased in between 2012 and 2014. But low-paid public sector workers on less than £15,000 would not face any increase in contributions and those earning less than £18,000 would have their contributions capped at 1.5%. There have been some claims and counterclaims over what this means for public sector workers.
Why are these changes needed?
The Office for Budget Responsibility (OBR) has suggested that the gap between contributions and pensions in payment would double over the next four years to £9bn. One key reason for this is that people are living for longer. The government commissioned Lord Hutton, the former Labour Work and Pensions Secretary, to investigate the situation. Many of its proposals are drawn from recommendations in this report.
What do the unions want to happen?
Trade unions have voiced strong opposition to their members paying more in the form of contributions to their pension. It is not clear how opposed they are to changing schemes to a career average version, or to the plans to raising the retirement age to 65 or 66. They were also unhappy that the government announced its plans for pensions while negotiations with the unions were ongoing.
NIPSA, the largest public sector union in Northern Ireland, are planning the "biggest mobilisation or workers every in Northern Ireland" with rallies planned in every major town and city. The Northern Ireland section of the public service union, Unite, has criticised the government plans, saying it would take "three lifetimes" for the average public servant to earn a cabinet minister's pension.
How do private and public sector pensions compare?
Lord Hutton's interim report says that "there is no evidence that pay is lower for public sector workers to reflect higher levels of pension provision". Although 85% of public service employees contribute to a pension, he said that these pensions were far from "gold-plated", with the average pension in payment currently at a "modest" £7,800 a year.
About half of public service pensioners received less than £5,600 a year. Some private sector schemes are worse than this, but he said that should not affect public sector pensions. In the private sector only 35% of workers sign up for a pension.