SEELB recommends that three schools should close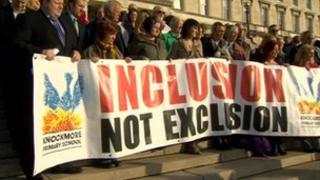 Three of the four schools in the south-eastern board area which were threatened with closure have been told the proposal will go ahead.
However, one school, Knockmore Primary in Lisburn, has been reprieved.
This follows a protest campaign by parents and politicians.
Redburn Primary in Holywood, Dunmurry High School and Ballykeigel Primary in Comber, have been told the board would like them to close by the end of August next year.
However, the final decision will be up to the Education Minister John O'Dowd.
Ballykeigel Primary failed to sway the board, despite coming up with a plan to make the school a centre of excellence for Ulster Scots culture.
They said they were very disappointed but were not beaten yet and would continue to campaign for the school.
The principal of Dunmurry High said the decision to push for its closure was very upsetting for the staff and community.
Knockmore is to be allowed to stay open, but may lose some of its special needs units to other schools, closer to pupils' homes.
A leader of the campaign to save Knockmore Primary in Lisburn said they were ecstatic and that the success of their protest was a "victory for the community".