Public sector strikes hits council services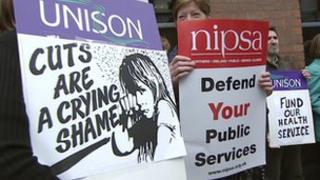 Belfast City Council has announced that a range of services will not be operating on Wednesday due to strike action by public sector workers.
Bins will not be collected and all recycling centres and civic amenity sites will be closed, as will leisure centres and sports pitches.
The registrar's office will be open for death registrations only.
There will be possible closures of play and community centres - the public is advised to contact their local centres.
Belfast Zoo will be closed to the public and there will be no city hall tours. All public toilets will also be closed.
Some shows and concerts at the Ulster Hall and Waterfront Hall will also be affected. The Dave Gorman show at the Waterfront has been rescheduled to Friday 15 June 2012.
Weekly black bin and recycling bins will be collected on the next scheduled collection day, while fortnightly black bin collection will take place on on Saturday 3 December.
There will no public transport, so bus lanes, except for those on motorway hard shoulders, can be used by motorists to keep traffic moving on Wednesday.
However, parking restrictions will be in operation as usual.
The unions have said they are striking because of proposed changes to pensions for public sector workers, and spending cuts.