Sean Quinn told to pay former Anglo Irish Bank 1.6bn euros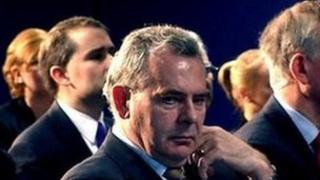 Fermanagh businessman Sean Quinn has been ordered to pay more than 1.6bn euros to Irish Bank Resolution Corporation, formerly Anglo Irish Bank.
The ruling was made at the Commerical Court in Dublin.
The total involves 1.52bn euros, $589m and 13 billion Japanese yen. Mr Quinn did not attend the proceedings.
The official receiver in charge of Mr Quinn's bankruptcy in Northern Ireland indicated he would be making no application to challenge the order.
Last week, the court granted summary judgment against Mr Quinn to IBRC for almost 417m euros.
The bank's claim for a further 1.6bn had been adjourned until Monday to give the official receiver a further chance to tell the court if he wanted to challenge that claim.
Last week, lawyers for the former Anglo Irish Bank also brought an application at the High Court in Belfast to have Mr Quinn's bankruptcy in Northern Ireland annulled. A full hearing for the application is to take place on 19 December.
By declaring himself bankrupt in Northern Ireland two weeks ago, Mr Quinn only has to wait a year before going back into business - rather than 12 years in the Republic of Ireland.
He said he brought the application north of the border because he was born, raised and worked all his life in County Fermanagh.
The IBRC says the Quinn family are attempting to put assets beyond their reach and is pursuing legal action in a number of countries.
"Today's Commercial Court judgment gives clear, unambiguous recognition to the legal obligations of Mr Quinn in relation to these guarantees and that is welcomed today by IBRC," the bank's chief executive Mike Aynsley said.
Mr Quinn was reputedly worth £3.7bn (4.30bn euros) at the height of his success and was described as Ireland's richest man.
In April, he lost control of his insurance and manufacturing businesses and the former Anglo-Irish bank has been pursuing him through the courts to retrieve the debt he built up through a disastrous investment in the bank's shares.