Stormont may lose £150m in government cuts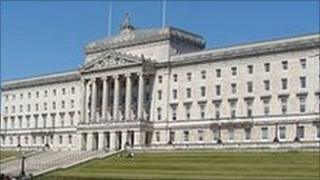 Stormont could face a cut of up to £150m as a result of the autumn statement by the chancellor.
George Osborne is expected to outline billions of pounds of investment in building projects which will be funded by spending cuts elsewhere.
The chancellor is also expected to announce a credit-easing scheme to encourage banks to lend more money.
The Federation of Small Businesses said it accepted that the chancellor would not have much scope for tax-cuts.
When Westminster increases spending, Northern Ireland's spending departments see a corresponding lift.
However, when Westminster cuts, the departments see a corresponding reduction.
Stormont Finance Minister Sammy Wilson is focused on the chancellor's initial £5bn cut.
If the normal rules apply, that could mean a cut of up to £150m taken out of Stormont's spending pot this year.
The chancellor's autumn statement is due at lunch-time.