Number of MLAs choose to cross picket line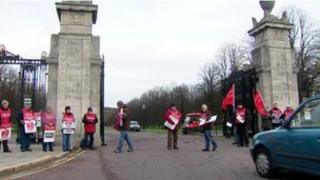 A number of MLAs have gone to work at Stormont on Wednesday.
The UUP's Mike Nesbitt, Basil McCrea, Joanne Dobson, Roy Beggs, John McCallister and David McNarry crossed the picket line
DUP MLAs Jonathan Craig and Tom Buchanan and TUV leader Jim Allister also entered Stormont.
Stephen Agnew of the Green Party stood with approximately 60 workers on the picket line.
There were some sharp exchanges between union members and some MLAs as NIPSA representatives asked the MLAs not to cross the picket line.
Only UUP and DUP members attended the education committee meeting at Stormont.
MLAs from Sinn Fein and the SDLP had previously announced that they would not cross picket lines.
Mr Nesbitt said his party supported the right to strike. He was not a member of a trade union but had been elected to resolve issues such as re-balancing the economy.
Economic recession
Mr Nesbitt urged workers to recognise the realities of the economic recession.
"We must all be aware that the reality we find ourselves in at present is one of recession and austerity," he said.
"Unfortunately we all have to shoulder some of the burden."
He cited the plight of Greece, Italy, Ireland and others as examples of the need to balance the books. He said no-one could sustain the borrowing of the last Government.
First Minister Peter Robinson said discussions between union leaders and government needed to happen.
"I was disappointed to hear at the weekend that union leaders were saying that it didn't really matter what the government said - that nothing would stop the strike from taking place," he said.
"That indicated that they were determined that they were going to have the strike come what may.
"I think that's a mistake, they need to be sitting down with the government to resolve these matters."
Deputy First Minister Martin McGuinness expressed his support for the strike.
"I understand fully the feelings of public sector workers angry at the imposition of a pension levy by the British government," he said.
"I support the striking workers in the actions they have taken."
Meanwhile, the SDLP's John Dallat joined workers on the picket line at County Hall in Coleraine.
"These people are the salt of the earth who feel bruised and battered by a heartless government that is robbing them of their pension rights," he said.