Ian Paisley jr claims phone 'was hacked'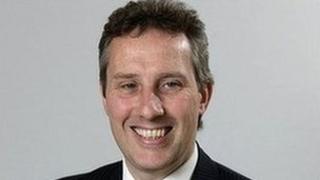 The DUP's Ian Paisley jr has claimed his phone was hacked when he was a junior minister at Stormont.
Mr Paisley has raised his concerns with the London Metropolitan Police.
The North Antrim MP resigned from his position as a junior minister in 2008 following criticism over his links to developer Seymour Sweeney and allegations he lobbied on his behalf.
A ombudsman's investigation ruled that there was no evidence to suggest Mr Paisley had broken assembly rules.
"I am utterly convinced I was hacked because of things that appeared that only could have appeared through voice mail," he told the Irish Times.
Mr Paisley wants to see the Leveson Inquiry focus on Northern Ireland.
He told Radio Ulster: "I have no doubt that there was a general gathering of intelligence to stand up stories and then there was the standing up of stories afterwards by phone hacking occurrences.
"Not just on my phone, which was one matter, but in several public figures in Northern Ireland and I understand the current first and deputy first minister have evidence that their phones were possibly hacked as well.
"I think that phone hacking was a common and general practise in Northern Ireland. I have had this conversation with a former editor of one of our newspapers, I have absolutely no doubt that it was used.
"It was deployed here and given that a phone hacking inquiry is already operational and that it can extend to Northern Ireland, it should, therefore, look at what went on in Northern Ireland and these allegations."
The inquiry is into the culture, practice and ethics of the press.
Prime Minister David Cameron set up the inquiry after the News of the World admitted intercepting voice mail messages of prominent people to find stories.
Mr Paisley's claims come a day after former Northern Ireland Secretary Peter Hain was understood to have been warned that his computer may have been hacked.
Computers belonging to other senior civil servants and intelligence officers may also have been accessed.