Samuel Dunwoody accused of Margaret Telford murder in Belfast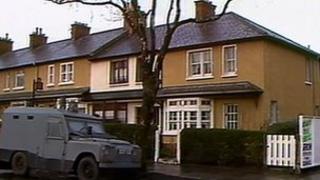 New forensic findings led to a man being charged with the murder of a Belfast pensioner more than 20 years ago, a court has been told.
Samuel Dunwoody was arrested in Birmingham on Monday over the killing of Margaret Telford.
The 68-year-old victim was found strangled in her Twaddell Avenue home in February 1988.
Mr Dunwoody, 51, is originally from Belfast but has an address at High Tower, Birmingham, West Midlands.
A detective inspector told Belfast Magistrates' Court he could connect him with the murder charge.
The officer also confirmed to defence solicitor Billy McNulty that a review of the evidence in the case led to new forensic findings.
No application for bail was made during the hearing.
Mr Dunwoody was remanded in custody to appear again by video-link in December.