Ulster Bank staff get strike security advice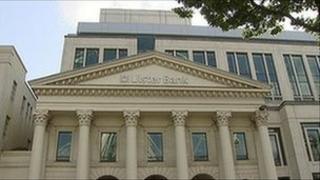 The Ulster Bank has issued security advice to staff working in a branch close to the trades union rally taking place in Belfast city centre.
In an e-mail the bank asks staff not to wear passes outside the Donegall Square East branch and advises staff that they may restrict access to the branch.
However, the e-mail also says that the bank does not anticipate disruption.
In a statement, the Ulster Bank said that it "takes the security and safety of our staff very seriously."
The e-mail was obtained by the BBC, and was issued by internal communications at the Ulster Bank.
It contains "key information and instructions" for staff working in or travelling to Donegall Square East.
It says that as a precautionary measure, the bank "may restrict access in/out of DSE and the Belfast city office branch to single doors. We would ask for your co-operation with our security guards in using the entrances as instructed."
The e-mail also asks staff "that when outside the building you do not wear your NIACS ID pass."
The Belfast rally is one of a number of rallies taking place across Northern Ireland as part of a day of industrial action by a number of public sector unions.