MPs express concern over air link between Belfast and London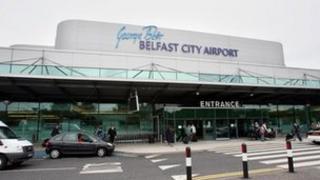 MPs have expressed concern that the air link between George Best Belfast City Airport and London could be in jeopardy.
Their concerns were aired in Westminster after Secretary of State Owen Paterson confimed that he has had discussions with Willie Walsh.
Mr Walsh is the chief executive of the International Airlines Group (IAG), which owns British Airways and Iberia.
The talks took place because Lufthansa is selling British Midland (BMI).
The International Airlines Group hope to buy it. Mr Walsh said if the deal goes ahead it will be good news for the UK.
MPs are concerned that the takeover could lead to a loss of flights on the Belfast City - Heathrow route.
The North Down MP Lady Sylvia Hermon expressed worries that services between Belfast and London would be reduced.
She said a written parliamentary answer from Mr Paterson had increased her concerns.
She told fellow MPs that the secretary of state's original response was not clear and had added to her fears that the service from George Best Belfast City Airport was about to be reduced.
Mr Paterson said that was not his intention and he apologised for the poorly drafted reply.
Concerns were also raised by the Alliance East Belfast MP Naomi Long whose constituency takes in the City Airport.
Owen Paterson told the NI affairs committee that he had stressed the importance of the Belfast to London route to Mr Walsh.
Asked if he could guarantee the route's future, he said: "I am in no position to guarantee anything because when I saw him on Friday evening he was going through due diligence."
He confirmed that more talks with Mr Walsh would take place.