Corporation tax ministerial meeting due in December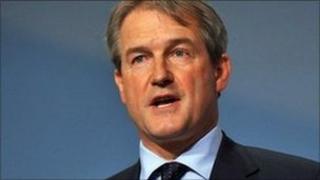 Secretary of State Owen Paterson has confirmed the first joint ministerial meeting on corporation tax will take place before Christmas.
Stormont ministers, led by Peter Robinson and Martin McGuinness, will sit down with Mr Paterson and his Treasury colleagues.
They will begin to hammer out a potential deal on devolving corporation tax powers.
Mr Paterson said three key points had to be addressed.
"We've really got to nail down what this would cost should there be a decision to devolve corporation tax," he said.
"Then, how would it be administered - would there be a separate agency in Northern Ireland?
"And finally how we would legislate?"
Stormont wants to reduce the tax, which is currently 26%, to equal, or even below, the Irish Republic's rate of 12.5%.
That would mean giving up a portion of funding from Westminster equal to the tax lost.
The cost has been estimated as anything between £100m and £500m.
It's expected that the Treasury will publish the responses to its consultation on the issue next week.