Number of new HIV cases diagnosed up 20%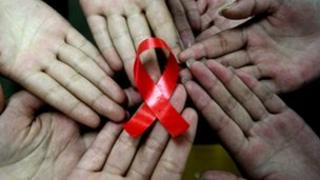 The number of new cases of HIV in Northern Ireland rose by 20% last year, according to a report by the Public Health Agency (PHA).
The figures show 79 new cases were diagnosed in 2010. It brings the number of people living with HIV in Northern Ireland to 470.
The majority of the new cases are among men who have sex with men.
There has also been an overall increase in cases of sexually transmitted diseases of 6%.
Louise Herron from the PHA said a "two-pronged approach" was needed.
"We in the PHA need to raise awareness and continue to find novel ways of putting out the safe sex message," she said.
"People also have to take some responsibility for themselves and remember to use condoms, limit their number of partners and also if they do feel they have been at risk to go and get tested."
Thursday is World Aids Day and the Health Minister Edwin Poots took the opportunity to raise everyone's awareness of the condition.
"The HIV virus is ever present and must not be underestimated," he said.
"World Aids Day provides an opportunity to bring the public's attention to the disturbing current lack of knowledge and awareness of HIV infection.
"Today, thanks to improved treatment, people living with HIV remain healthy for longer. Early diagnosis is important, as early treatment and care improves prognosis."
Chief Medical Officer Dr Michael McBride warned people of the dangers of neglecting the fight against Aids.
"Whilst we have a relatively low prevalence of HIV, we cannot be complacent about such increases in diagnoses," he said.
"We need to reinforce HIV prevention messages and raise awareness and understanding of the impact of HIV and Aids for individuals and communities.
"Many people living with HIV continue to suffer ill-informed prejudice and discrimination, often causing social exclusion and poor quality of life. We must ensure that those affected are cared for and supported."