What the papers say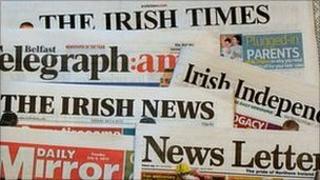 Journalist Mike Philpott takes a look at what is making the headlines in Thursday's newspapers.
The front pages are dominated by pictures of the strike in Northern Ireland.
The Belfast Telegraph says a strike described as "a damp squib" in the rest of the UK has been hailed as a success in Northern Ireland.
The other big story on the local front pages is the latest revelation about clerical abuse in the north west. The Irish News focuses on calls for a state inquiry into the handling of allegations against priests in Raphoe, which, it says, is thought to have the worst history of abuse of any diocese.
The Mirror concentrates on the apology from retired bishop Seamus Hegarty for his failure to do enough to protect children.
The News Letter comment column has something to say about the decision of Belfast's Lord Mayor, Niall O'Donnghaile not to present a Duke of Edinburgh award to an army cadet. It describes his actions as "reprehensible and insulting" and says they demonstrate that nothing has changed.
In London, it is another day and another gloomy financial story.
'Gloomy finance'
Several papers look at a report by the Institute for Fiscal Studies showing that the average family's disposable income is falling.
"Big squeeze hits home," says a headline in the Times. It says families will be £2,500 worse off next year compared with three years ago.
The rich get richer and the poor get poorer is the Independent's take on the subject. The Guardian says inflation, spending cuts and the longest period of pay stagnation on record will see our spending power plummet over the next five years.
One of the most unusual stories is an online puzzle designed to tell you if you have what it takes to be a spy.
The Daily Telegraph reports that recruiters for the secret services have moved into the 21st century. Once, it says, people joined the intelligence service after being approached at Oxford or Cambridge. Now, it is more important to have code-breaking skills that suit the computer age. The paper prints an apparently meaningless jumble of figures and letters.
If you can crack it in eight hours, you could be the next James Bond.
Finally, there is proof that we really do turn into our parents.
The Daily Express reports on a survey which shows that modern-day mothers and fathers use the same old phrases as their parents when talking to their children. Apparently it is because they worked.
They include: "Take your coat off or you won't feel the benefit when you go outside"; "Don't sit too close to the television or you'll get square eyes"; and "Be careful - you'll have someone's eye out with that."