Belfast bin-men paid extra to clear up strike backlog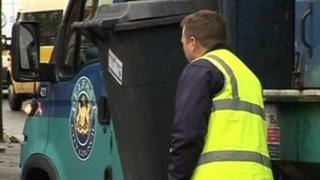 Bin-men from Belfast City Council who were on strike on Wednesday will get paid overtime to clear the backlog on Saturday.
The council workers will be paid one-and-a-half times their usual rate to work at the weekend.
Twenty-four staff are expected to work clearing black bins that should have been collected on the day of the industrial action.
It is expected to cost Belfast City Council about £3,000.
DUP councillor Christopher Stalford said the strike had resulted in more public money being wasted.
"I would suspect that, at the present time with pressed budgets, this is probably not the best use of resources," he said.
"I would encourage anyone that was involved in strike action to think very seriously about engaging in it again because it clearly has a cost to the ratepayer attached to it."
But Kevin McAdam from Unite defended the council decision to clear the bins on a Saturday.
"The choice was to leave the bins for three weeks coming up to Christmas or they get it done and sort the thing out and if that's to be done, then there is a rate for the job on a Saturday," he said.
"People are giving up their day's leave to come in and work and I think that's admirable for them to do that."
North Down Borough Council has said it is not putting on any extra bin collections as a result of the strike.
Although it was collecting the blue recycling bins this week, North Down Borough Council did admit that it may have had to make extra rounds if it had been due to pick up rubbish from black bins.