Former priest says victim's allegations 'for money'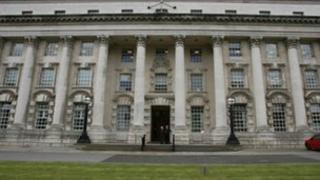 A former priest accused of sexual offences has told Belfast Crown Court that one alleged victim's allegations "may be motivated by money".
James Martin Donaghy denies 26 charges of sexual abuse and indecent assault on three males between 1983 and 2000.
The 53-year-old claimed during police interviews that "I have no idea why he is saying all of that" in relation to allegations made by the third victim.
He added: "I also think it's maybe motivated by money."
The former priest also said on Thursday: "He spoke to me on two occasions that he had no money and that I had plenty of money."
Mr Donaghy, from Lady Wallace Drive in Lisburn, denies all charges, including those made by Fr Patrick McCafferty, Mr James Doherty and the former altar boy who was a one-time trainee priest.
The police interviews the court heard related to claims made by the former altar boy who said he was abused from 1994 until 2000.
Giving evidence to the court, Detective Constable Gordon read out interview transcripts where the alleged victims claims were put to the former priest.
At each and every opportunity given to him to respond, Mr Donaghy denied his alleged victim's account, telling police it was "absolutely untrue - I emphatically deny that".
At other times Mr Donaghy simply told police "that didn't happen" and labelled aspects of the allegations as "complete and utter nonsense".
The trial continues.