Protesters call for Lord Mayor Niall O Donnghaile's resignation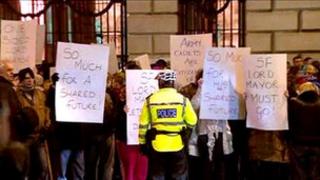 About 200 protesters calling for Belfast's lord mayor to resign gathered at the City Hall on Thursday night.
They were protesting against Sinn Fein's Niall O Donnghaile's refusal to present a Duke of Edinburgh award to a teenage army cadet.
Mr O Donnghaile previously told the BBC that if he had caused offence to anyone then he apologised for it.
He reiterated his apology at the evening's council meeting.
The peaceful protest assembled shortly before the meeting began at 18:00 GMT.
The crowd chanted and held placards with most leaving after about an hour and a half. May Street behind the City Hall was closed for a time and only a small group waited for the meeting to end.
Unionists councillors have said they were "appalled" by the lord mayor's actions. They now need to decide if the matter will be discussed further at a special council meeting on Monday night.
Mr O Donnghaile told the BBC: "If I have caused any offence to anyone, I apologise."
He later released a statement in which he said that he would never go out of his way to cause offence.
"I accept that my decision not to present an award to a British army cadet has caused genuine annoyance," he said.
"I apologise to anyone who has been offended and in particular the young woman involved and her family. That was clearly never my intention."
One protester said she would not accept the apology as "it never should have happened in the first place".
Another said: "Time he was out and he's going out."
Mr O Donnghaile has also come under fire from a senior government minister.
Commons Leader Sir George Young said: "I very much hope we can move forward in a more consensual way than that gesture indicated."
Also speaking in the House of Commons, DUP MP Sammy Wilson called the lord mayor's refusal to present the award a "breathtaking display of bigotry".
However, Sinn Fein's Martin O Muilleor accused unionists of attempting to derail a progressive lord mayor.
"We won't be taking any lectures on inclusion from the DUP. These are the people who, for 100 years, would not have a Catholic lord mayor, never mind a Sinn Fein lord mayor," he said.
"The DUP deputy lord mayor will not talk to the Sinn Fein lord mayor, never mind shake his hand. So whatever lessons we need to learn about outreach, and we all need to stretch ourselves in these matters, we won't be taking any lectures from the DUP."
'Petty bigotry'
In a joint statement from the DUP and UUP, Aldermen Robin Newton and David Brown said that the lord mayor had brought his office into "disrepute by his actions".
They said that "such petty bigotry has no place in modern society".
On Tuesday, Mr O Donnghaile said he would be happy to meet the cadet and her family to explain his decision. He said it was "nothing personal".
"At the last minute I was informed that one of the awards was to be presented to a representative of the Army Cadet Force," Mr O Donnghaile added.
"In order to avoid any unnecessary sensitivities to either party, it was arranged for the outgoing chairman of the organisation to present some of the certificates alongside me.
"I take my responsibilities as being a mayor for all very seriously."