£10m taxpayer funded project fails to deliver single home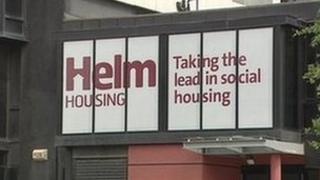 A major social housing project funded by the taxpayer to the tune of almost £10m has failed to deliver a single home, the BBC has learned.
Nearly five years later the site is being used as a car park.
Helm Housing Association purchased the land at Great George's Street, beside the M3 fly-over in Belfast, for £9.7m in early 2007.
Most of the money came from the Department of Social Development.
Helm has never submitted a planning application for the 200 homes it pledged to deliver when it took the money.
Instead, Helm has leased the site to a car park operator who, according to the Department of the Environment, does not have planning approval.
The car park operator is appealing an order to shut down.
The BBC understands Helm has not been asked to return the funds, but the site may now instead be used for major roadworks.
Helm partly blamed the local community for the project's failure, saying they were strongly opposed to tower-block accommodation.
Frank Dempsey of the Carrickhill Residents' Association said it could not be used as a scapegoat.
"What are the people in power playing at to allow this to happen?" he said.
Documents at Lands Registry show there were three parties to the land sale.
The owner sold it to a property group in the Isle of Man for £6.5m, who then immediately flipped it to Helm for £9.7m
Helm said the purchase price was supported by an independent valuation.
The DSD refused to disclose further details of the scheme to the BBC under a Freedom of Information request, stating it could damage the reputation of Helm and the wider social housing movement.
Earlier this year, Helm had its Government funding suspended after a DSD inspection which examined the Great George's Street purchase and other projects.