Police identify 15 potential new sex trafficking victims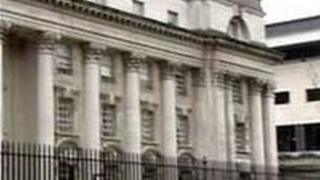 Police have identified 15 potential new victims of an alleged sex trafficking operation based in Northern Ireland, a court has heard.
Detectives are seeking eastern European women seen on an escort website linked to the suspected vice ring.
A man accused of being at the head of the prostitution racket was refused bail at Belfast's High Court on Friday.
Bronislav Rybensky, 29, with an address at College Central Apartments, Belfast, faces a number of charges.
The Czech national's charges include trafficking into UK for sexual exploitation, controlling prostitution, and brothel keeping.
He was arrested in August when PSNI Organised Crime Branch officers raided properties across the city following a three-month probe.
Another man and women also face charges in connection with the investigation.
Mr Rybensky is alleged to have advertised the women's services online and taken up to 80% of their earnings.
At the time of the raids six alleged victims were rescued.
But the High Court heard on Friday how inquiries were carried out into another 15 women on the same escort website.
Detectives were said to have identified them after liasing with Czech police and Interpol.
A judge was told that officers now want to speak to the women to establish if they are victims.
Counsel for Mr Rybensky insisted: "There is no suggestion that the applicant is connected to these new 15 names that have been unearthed."
Lord Justice Coghlin ruled the accused must remain in custody due to the risk of flight or any further offending.
He stated that Mr Rybensky was suspected of being at the centre of a prostitution operation involving the alleged "corrupt and demeaning exploitation" of eastern European women lured into Belfast on false premises.
The defence explanation, however, is that they are sex workers consenting to the transfer of their services across the European Union, the judge pointed out.
Despite refusing bail, Lord Justice Coghlin urged police to complete their investigations as quickly as possible.
He told the prosecution: "There are 15 further (potential) victims to be interviewed. You will bear in mind that the subject's liberty is at stake."