Customs officers close Magherafelt filling station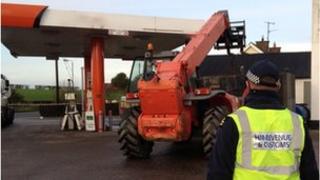 A filling station in County Londonderry has been closed by HM Revenue & Customs after it was found to be selling illicit fuel.
The station in the Magherafelt area was raided by customs officers on Thursday.
A 17,000 litre fuel tank, the forecourt pumps and 2,300 litres of contaminated fuel were seized.
John Whiting, the assistant director of HM Revenue & Customs, warned those who buy illicit fuel of the dangers involved.
"Selling illicit fuel seriously undercuts legitimate traders who should be able to operate without the threat of unfair competition," he said.
"The production of illicit fuel can cause considerable damage to the environment and there is also potential for serious damage to vehicle engines."