Derry's Guildhall closed for start of City of Culture 2013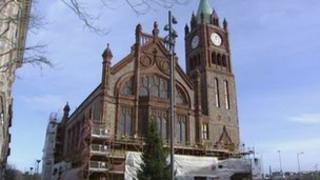 The BBC has learned that the Guildhall in Londonderry will be closed for the start of the City of Culture year in 2013.
The council building closes this weekend for multi-million pound renovations which will take over a year.
Some existing facilities at the Guildhall will move out to be replaced by new services.
Both the inside and outside of the building will be renovated.
When the council returns to the building in 2013 the chamber will have moved from the ground floor to upstairs.
The Mayor of Derry, Alderman Maurice Devenney, said that the public were aware of the closure and understood it had to be done.
"I think nearly everyone knows now that the Guildhall will be early spring before it's open," he said.
"We have made people aware of that this last year or so. There is no negativity coming back about that at all."
Tour operator Martin McCrossan said that the Guildhall was just one of Derry's attractions.
"We have three very important attractions in the city," he said.
"One of the main ones is the city walls - which are one of the most complete set of walls in the whole of Europe.
"St Columb's Cathedral is the finest building in the city, dating back to 1628, but then the Guildhall, just outside the city walls, is the next most historic building."
The City of Culture promoters declined to comment on the closure of the Guildhall but did say they were "delighted" the building was getting a facelift.