Station closures not in nationalists' interest, says McDevitt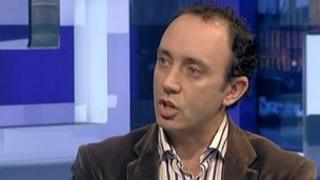 The SDLP's Conall McDevitt has said it was a "nonsense statement to assume nationalists want to see police stations close".
The South Belfast MLA told the BBC's Politics Show it was not in "nationalists' interest" not to have police in communities.
A plan to close 40% of police stations in Northern Ireland was presented to the policing board on Thursday.
Police want to close 34 of 83 stations as part of a cost-cutting plan.
"Everyone in this region who is genuinely interested in a new beginning to policing is interested in a police service that's more interested in communities than they are in living in the past," Mr McDevitt said.
"If the PSNI are serious about building confidence in every community in the north of Ireland, what will not be able to be escaped is the need for police to be present in those communities.
"If you go around closing their police stations... you're going to give rise to the perception that the police are no longer part of that community."
'Unionist/nationalist dog fight'
Mr McDevitt added that the debate was "depressing" as it had come at a time when the District Policing Partnerships (DPP) were about to be disbanded.
He said this would mean they would be unable to consult properly with local communities about the impact of the proposed closures.
Trevor Lunn of the Alliance party said he hoped the subject of closures would not "develop into a unionist/nationalist dog fight".
"I don't think it will be a straight case of unionists wanting to keep them all open and nationalists wanting to keep them all closed," he said.
The DUP's Jonathan Craig said there was, however, "a general consensus around all the board" on the matter of community policing in rural communities.
"There is a genuine fear it will affect community policing," he said.