Massereene murders trial told of Duffy and Shivers' arrests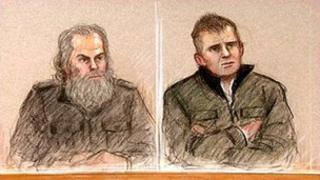 The trial of two men accused of killing two soldiers at Massereene barracks in 2009 has been hearing police statements about their arrests.
Colin Duffy and Brian Shivers deny murdering Sappers Patrick Azimkar, 21, from London and Mark Quinsey, 23, from Birmingham, at the Army base.
Mr Duffy was arrested at his home in Lurgan seven days after the murders.
His house was searched and a number of items seized.
The court was told that when charges of murder and attempted murder were put to him he replied "definitely not guilty".
Mr Shivers was arrested at his Magherafelt home on 21 July 2009, four months after the murders.
The court was also told the trial could continue into January because a forensic witness who examined and linked soil samples from boots seized from Mr Duffy's house is ill.
The two soldiers were shot dead as they collected pizzas outside the base in Antrim in March 2009, the night before they were due to leave for Afghanistan.
As well as the murder charges, Mr Duffy, 44, from Lurgan and Magherafelt man Mr Shivers, 46, both deny six charges of attempted murder and one of possession of guns and explosives.