Northern Ireland Assembly debates pension changes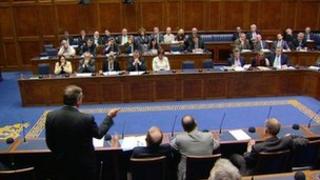 Changes to the public sector pension system are an "attack on ordinary taxpayers", according to the SDLP's Mark H Durkan.
He made the comments during an assembly debate on an SDLP motion which claimed proposed increases in contributions were "wrong and unjustified".
Tens of thousands of people joined rallies around the UK on 30 November as a public sector strike over pensions disrupted schools, hospitals and other services.
They were opposed to plans to make members pay more and work longer to earn pensions.
The assembly debate highlighted differing views by parties.
Mike Nesbitt spoke on a UUP amendment calling on the trade unions and the British government to continue negotiations in the hope of finding a solution and preventing further strike action.
He said he could not support the wording of the SDLP motion that proposed increases were "wrong", instead he said he would have preferred the word "regrettable" to be used.
Mitchel McLaughlin proposed a Sinn Fein amendment opposing the Ulster Unionists' changes to the motion. He said he was "disappointed but not surprised" by the view they had taken.
He said his party were proposing a "much more equitable approach".
Finance Minister Sammy Wilson said those receiving the pensions had two alternatives.
"The taxpayer pays for it or else it is paid for in terms of reduced public services," he said.
He dismissed Sinn Fein's proposal to exclude all other public sector workers earning less than £32,000 per year.
"This would mean the burden would fall very, very highly on a very small proportion of workers," he said.
The motion, with the UUP's amendment, was passed.
Earlier, Mr Wilson has said ministers and MLAs should share the pension pain.
The finance minister was speaking to the BBC about the fact that an independent review panel will soon examine the pensions of members.