Northern Ireland salt stockpile increased: Kennedy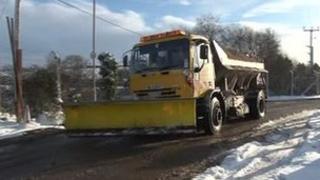 Regional Development Minister Danny Kennedy has said his department has nearly doubled the amount of salt stockpiled for gritting roads this winter.
Mr Kennedy said that last winter 65,000 tonnes of salt had been stockpiled.
This year that has increased to 110,000 tonnes and arrangements have been made to secure extra supplies if necessary.
Mr Kennedy said 300 staff are being deployed on a nightly basis to grit major roads.
The minister said a quarter of the roads network will be salted.
He added that in some circumstances smaller roads would be gritted and special arrangements were being made for rural schools and events like funerals.
However he urged people to help their neighbours and help themselves by using the 4,500 salt bins and 40,000 grit piles which have been provided.