UUP candidate says party should 'consider disbanding'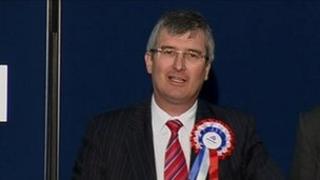 An UUP member has said the party should consider disbanding.
Lesley Macaulay, who stood for the UUP in the last assembly election said a Conservative plan to form a new political grouping was a "golden opportunity".
Last month, Conservative Party chairman Lord Feldman suggested that the NI Conservatives and the UUP should be wound up and a new grouping formed.
He hoped the "bold proposal" could be agreed in principle by Christmas.
The UUP leader Tom Elliot described it as "unacceptable".
He added that it would be unacceptable to the vast majority of his party's members and voters.
The Conservative plan has been backed by David Cameron and Irwin Armstrong, the chairman of the Northern Ireland Tories.
'Meaningful voice'
It would result in both parties being disbanded and a new party, the Northern Ireland Conservative and Unionist Party, being formed.
In a letter to Mr Elliott obtained by the BBC Ms Macaulay said Northern Ireland was "crying out for a centre-right party which is local, but linked to UK mainstream".
"A party at Westminster which is a full part of the UK Conservative party and offers Northern Irish voters a meaningful voice in national politics, in issues like taxation and foreign policy," she said.
She added that "we have a duty to voters to constantly re-examine how best we can serve all of our people".
She also told Mr Elliott that Lord Feldman's letter offered "that opportunity and it would be remiss of us to dismiss it lightly".
Ms Macaulay stood for the Ulster Unionists in East Londonderry in the assembly elections. She was a joint Conservative and Ulster Unionist candidate (UCUNF ) for the same constituency in the general election in 2010.