Lissue and Forster Green abuse allegations not on list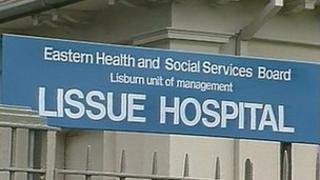 A junior minister has questioned why a team looking into historical child abuse was not told about allegations at Lissue House and Forster Green Hospital.
Martina Anderson said she was "at a loss" as to why neither institution was included on a list of 23 places where it was thought abuse may have occurred.
The Department of Health supplied the list to the cross-departmental team.
An independent review into the allegations was completed in 2009, but was never made public.
Following complaints about historic abuse from patients at Lissue House and Forster Green Hospital in the 1980s and early 1990s, a review was carried out by independent consultant Bob Stinson.
Its contents were only revealed last month after a leaked copy was given to the Irish News.
Speaking in the assembly on Tuesday, Ms Anderson reminded MLAs that the current Health Minister Edwin Poots had said he was unaware of the Lissue and Forster Green allegations before they were reported in the press.
She also said the previous minister Michael McGimpsey had also asserted he was not aware of the allegations, but added that this had been contested by the department.
Last month, Mr Poots told the assembly that there had been no cover-up into allegations of abuse at the two hospitals.
He also said he was "extremely annoyed" that he was not given an interim briefing on the allegations at Lissue House and Forster Green and both hospitals would be included in the remit of the Historical Abuse Inquiry.
Ms Anderson was also questioned about the recent reports on abuse in Catholic dioceses and said she and fellow Junior Minister Jonathan Bell had met the Catholic Safeguarding Board.
She also indicated that the Stormont inquiry would be extended to take in diocesan abuse.