Ballymurphy families hand in petition for independent inquiry to Downing Street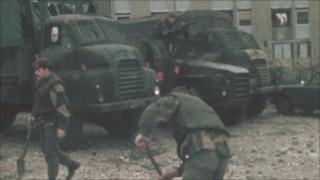 Relatives of 10 people shot dead by paratroops in west Belfast in 1971 have handed in a petition to Downing Street calling for an independent investigation.
Other relatives handed a similar letter to the Justice Minister David Ford at Stormont.
The Army said it opened fire in the Ballymurphy area in response to gunfire from republican paramilitaries.
The families have long called for an independent inquiry into the killings.
The victims, which included a priest and a mother-of-eight, were killed over the course of three days in August 1971 by members of the Parachute Regiment during Operation Demetrius, when people suspected of paramilitary activity were interned.
In November, the Attorney General John Larkin announced that new inquests would be held into their deaths.
The families said the decision by Mr Larkin was an important step in their ongoing campaign for justice but said their campaign for an independent investigation would continue.
They said although the new inquests would be an important step in the families' "journey for truth", it would have limitations.
The families believe that only an international and independent investigation can facilitate the "discovery of the facts" and provide an "accurate historical account" of the events in Ballymurphy in August 1971.
The Ministry of Defence has said it will cooperate fully with the Coroner's court.
The Northern Ireland Office has ruled out any public inquiry into the killings akin to the Bloody Sunday Tribunal.