UVF supergrass witness denies reduced sentence motive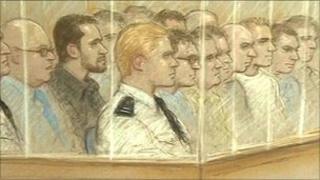 One of the key witnesses at the UVF supergrass trial in Belfast has denied trying to get a reduced sentence from the moment he gave himself up.
Ian Stewart said he and his brother Robert simply wanted to make a clean breast of it, and expected to be given life sentences for the murder of Tommy English in 2000.
They served just over three years in prison instead of 22.
They are testifying against 14 men in return for their reduced sentences.
Ian Stewart told the court it only dawned on him that this lesser sentence might be available to him more than two months after his arrest.
He repeated the claim when Mr Justice Gillen questioned him further about it.
But defence barrister Arthur Harvey QC produced documents to show that Stewart had requested a meeting with the Historical Enquiries Team hours after his arrest in 2008, and when it took place a few days later the potential deal was explained in detail.
On Tuesday, Stewart claimed in Belfast Crown Court that he simply does not remember this much earlier meeting.
The defence claim the discrepancy sheds doubt on his motives for testifying against 14 men, including alleged former north Belfast UVF leader Mark Haddock.
Stewart and his brother Robert received three-year sentences for involvement in the murder of UDA leader Tommy English.
They are testifying against the 14 men in return for their reduced sentences.
The trial continues.