Maire Rankin's daughter criticises treatment by justice system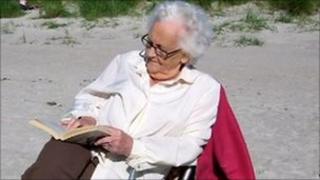 The daughter of a murdered Newry pensioner has criticised the way her family were treated by the justice system.
She was responding to a Criminal Justice Inspection (CJI) report which said more needs to be done for victims of crime and court witnesses.
Maire Rankin was murdered on Christmas Day 2008.
Her daughter, Mairead McElkerney said the court process had been frustrating.
"We started a two year and 10 month journey through a very tortuous long and protracted legal process and it really consumed our whole lives for that length of time," she said.
"At no time or at very little time during the two years and 10 months did we know what was going to be the next stage - with delays, you never knew from one court hearing to the next what was going to happen.
"You were in limbo all the time, you couldn't make any plans, you couldn't get information, there was a real lack of communication throughout the whole process."
Mrs Rankin was found dead in her bedroom. She had been beaten and sexually assaulted.
Karen Walsh, 45, a neighbour of the pensioner, was found guilty of her murder in October.
The CJI report said there should be time limits on how long it takes cases to go through the courts.
The report also said there had been positive developments in the treatment of victims and witnesses.
Marginalized
But victims felt that more attention was paid to the needs of the accused.
It said that they often felt marginalized by the process.
Dr Michael Maguire, from the CJI, said it was important to make help for victims a "service rather than a system".
One of the main complaints was over the length of time it took for court cases to be completed, which the report's authors said could add to the anxiety and potential trauma of victims.
"The clear message is that there is still a substantial minority that were unhappy with their experience of the criminal justice system," said Dr Maguire.
"One of the important messages to come out of the report is the need for empathy and understanding in relation to the needs of victims and witnesses.
"Because they enter into the justice system through no fault of their own and it's important that there isn't a one size fits all approach in dealing with individuals."
The inspectors have also called for better communication with victims and witnesses on the progress of a case.
The Department of Justice has welcomed the report.
The Justice Minister David Ford said he has already commissioned work on the development of a new strategy for victims and witnesses of crime, and the report will help inform that strategy.