James Donaghy denies becoming priest to target men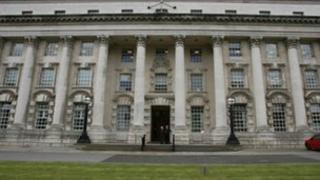 A former Catholic priest on trial on sex abuse charges has denied that he became a priest because of "the easy availability of young men".
The suggestion was put to 53-year-old James Martin Donaghy at Belfast Crown Court by a prosecution lawyer.
Mr Donaghy, from Lady Wallace Drive in Lisburn, has pleaded not guilty to a total of 26 charges.
They include indecent assaults on a fellow priest, a trainee priest and a one-time altar boy.
On Monday, Mr Donaghy said the allegations against him were "rubbish".
Under cross-examination on Tuesday, he said he became a priest because he had been an altar boy and admired the work of priests with whom he had come into contact, particularly in Lisburn.
The accused replied "certainly not" when prosecution lawyer Ken McMahon asked him if another reason for becoming a priest was the easy availability of young men.
Mr McMahon asked Mr Donaghy why three different young men had all made allegations against him and the accused replied: "I cannot speculate on their motives. I can give no reason.
"But I do know to my last breath that nothing happened."
Mr Donaghy said he voluntarily stood down as a priest in 2004 after an allegation had been made against him by one of the three alleged victims, James Doherty, a former altar boy.
He denied his actions had been an acknowledgement of guilt. It was, he said, the protocol in his diocese for priests to stand aside so that any allegations could be adequately investigated.
Mr Donaghy agreed that he had not returned to the priesthood even after he had been told that he would not be prosecuted at that stage.
Aviation world
He said that he had found employment in the aviation world and was enjoying it.
He denied Mr McMahon's suggestion that the real reason was that he was keeping his head down so that there would be no-one else coming forward with other allegations.
In relation to interviews which he had given to police, Mr Donaghy said he was tired and disorientated after flying in from his job in Delhi.
He said he was in an intimidating environment and "just wanted to forge on with the interviews to bring this ordeal to an end".
Mr Donaghy said that while police were putting a "barrage of questions during interview, you don't always hear what is being put to you", and that at times he may not have picked up on the "subtlety" of some of the questions.
He said that some of his answers could be put down "to possible confusion", but denied he had "deliberately" done so, and while "he had given thought" to what he had told police", it was to enable him to "clarify things", which he had done.
The trial continues.