Administrative staff shake up in health service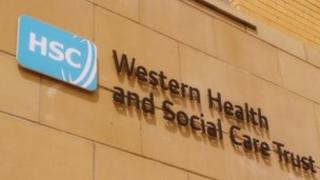 Hundreds of administration staff in Northern Ireland's health service could face re-deployment following the re-organisation of services.
Four centres of expertise are to be created across Northern Ireland.
The Department of Health hopes to make savings of around £100m in 10 years.
The BBC understands that around 100 posts will eventually go.
Currently each of the five health trusts has its own administration department which includes payroll and human resources.
But now the Department of Health wants to centralise administration into four centres of expertise.
Staff who currently work in the Western Health Trust's pay roll department which is based in Londonderry will be expected to travel to Belfast - which will become the new pay roll centre.
All human resources staff will be based in Armagh, finance payments in Ballymena and finance income in Omagh.
Staff who do not want to move will be offered retraining in a different area but the BBC understands if that is not appropriate voluntary redundancy will be offered in individual cases.
The move will affect around 500 people.