100 jobs could go with health reorganisation in Northern Ireland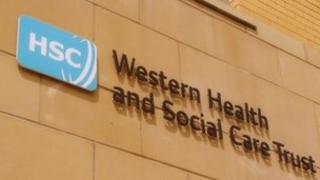 About 100 jobs could go in Northern Ireland's health service as a result of the reorganisation of administration staff.
Four centres of expertise are to be created across the country through the centralisation plan.
The Department of Health hopes to make savings of around £100m in 10 years.
Shane Devlin of the Business Services Transformation Project said the process would begin at the end of 2012.
"I think it is clear that the total number of posts that we will need to have to deliver the new service will be less than the total number of posts we have at the minute," he said.
"We are looking at approximately 100 less posts within this particular phase of shared services."
Currently each of the five health trusts has its own administration department which includes payroll and human resources.
But now the Department of Health wants to centralise administration into four centres of expertise.
Staff who currently work in the Western Health Trust's payroll department which is based in Londonderry will be expected to travel to Belfast - which will become the new payroll centre.
All human resources staff will be based in Armagh, with finance payments in Ballymena and finance income in Omagh.
Staff who do not want to move will be offered retraining in a different area but if that is not appropriate voluntary redundancy will be offered in individual cases.
The moves will affect around 500 people.
Mr Devlin said he wanted to manage the project so there was not "a situation where people will be made redundant".
"It is recognised that with some people their job will transfer, however it is recognised that with some people that will be exceptionally difficult and on an individual basis each employer will work with the employee to look at opportunities for redeployment and retraining closer to where those people are at the moment," he said.
"This is a programme that the first phase will kick off at the end of 2012 moving in to June 2013 so clearly there is time here to start to plan the move and how we transition people so we don't have people having to travel 40 or 50 miles to a new job."
Health Minister Edwin Poots will launch the reorganisation plan later on Wednesday.
Alison Millar of the trade union NIPSA said she had talked to some health service staff who were "in shock" at the proposals.
"Many of them don't know what the future holds for them," she added.
"There are issues about potential relocation of jobs, but those are jobs that perhaps will see someone from Newry having to relocate to Ballymena or be redeployed within their own trust.
"We know the health service has been contracting now for a number of years.
"So two and a half weeks before Christmas this is not good news for the staff who are affected."
Ms Millar said NIPSA would be questioning Mr Poots and his department about the amount of money which was expected to be saved through the plans.