Pipe bomb is thrown through window of house in Poleglass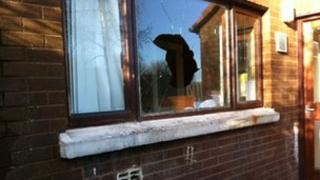 A pipe bomb has been thrown through the window of a house in Poleglass estate on the outskirts of west Belfast.
A number of homes were evacuated after the device was hurled at the property in Woodside Park at about 22:00 GMT on Tuesday. The device did not explode.
A nearby community centre was opened to accommodate residents.
Army bomb experts later confirmed the device was a viable pipe bomb. Residents were able to return to their homes at 02:40 GMT on Wednesday.
Michael George from the Sally Gardens community centre said police had asked him to open up the hall to accommodate residents.
He said up to 60 people were affected.
"There was a couple of elderly women, one of whom was only recently out of hospital, who we had to get off the steets as soon as possible," he added.
"A lot of people went to relatives who lived locally.
"It was pretty hairy for people, given the weather at the moment it was appalling we had to get people out of their homes."
Sinn Fein assembly member Jennifer McCann described the attack as "completely wreckless" and said it had "put all those in the vicinity at serious risk".
"Their only intention was to cause hurt to or even kill those who they targeted and in doing so have endangered all those families who live in this street," she added.