MPs debate how best to remember past events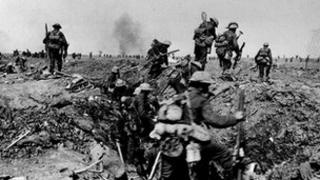 MPs in Westminster have debated an Alliance Party motion on how best to deal with centenaries like the Battle of the Somme and the Easter Rising in 2016.
Winston Churchill is quoted as saying that "history will be kind to me for I intend to write it".
Britain's wartime leader was probably only half joking when he made that quip - after all, it is often said that history is only written by the winners.
How we interpret the past and deal with it has long been a political issue and our elected representatives are often accused of rewriting history.
With that in mind the Alliance Party's deputy leader Naomi Long has called on the British and Irish governments to draw up a plan to deal with key anniversaries in the years ahead.
In a debate at Westminster, the East Belfast MP mapped out how she feels key commemorations will be marked.
Two key dates loom large on the horizon which have huge significance for Northern Ireland.
Forward planning
2016 is the centenary of the Battle of the Somme and the Easter Rising.
Naomi Long said the British and Irish governments must plan ahead.
She said commemorations need to be organised in "an inclusive way" otherwise there is a danger of exclusive and triumphalist celebrations.
She told MPs there needs to be "strong political leadership" and said the recent visit of the Queen to the Republic "teaches us lessons".
Northern Ireland Office Minister Hugo Swire agreed that the Queen's visit this year to the Irish Republic marked a key moment in Anglo- Irish history.
He said that when it comes to planning how key events are marked the "executive and the main parties must take the lead".
Mr Swire also warned that there was a possibility that dissident groups could use upcoming centenaries for their own purposes.
The Conservative minister told MPs he was concerned that those who "oppose conciliation" might try and "further their own regressive agenda".
He also suggested that as "we move towards a decade of anniversaries we should think of commemoration rather than celebration".
Upper Bann DUP MP David Simpson said it was crucial that the government in London was involved in marking key events.
He warned that it was wrong to leave commemorations solely in the hands of those at Stormont.
He told MPs it is "important it is not just left to the devolved administration".
His party colleague Willie McCrea had different concerns about how forthcoming commemorations are handled.
The South Antrim DUP MP said "it is vitally important no-one tries to rewrite history".
Much of the debate at Westminster focused on centenaries but the Foyle MP Mark Durkan pointed out that important 50 year anniversaries were also approaching which would be marked.
The SDLP MP said in the forthcoming decade of commemorations people should approach the events in a "responsible and measured way".
Partnership
He also added that it was impossible to achieve a received version of our history.
In her speech, Naomi Long urged the British and Irish governments to work together on planning anniversary coverage and she praised the work of a commemorations committee set up by Taoiseach Enda Kenny.
The Alliance MP also detailed a long list of anniversaries which occur in the years ahead, including the signing of the Ulster Covenant, the Home Rule Crisis, the emergence of the Gaelic Revival movement and the rise of women's suffrage and labour movements.
She said the key dates ahead present an opportunity to deliver "a new era of our shared history".
There was much common ground in this debate and a consensus that anniversaries and commemorations need to be handled sensitively.
Finding political agreement over how we should interpret the past will be much harder to achieve.
To misquote Winston Churchill: "History is one thing - it is how it is written that matters."