Magee in line for boost to student numbers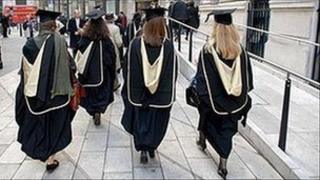 Magee College in Londonderry is to admit over 300 additional students by 2015.
On Tuesday, the Employment and Learning Minister Stephen Farry announced an extra 700 undergraduate places for NI.
The University of Ulster will have 322 new places as part of the plan.
The university's vice-chancellor, Professor Richard Barnett, said that all of the additional places would be provided at Magee.
Professor Barnett said that the university wanted to expand the Derry campus.
"However, we remain disappointed that the number of additional places are so few, given the strength of the case we have made for a substantial increase in student numbers at Magee," he said.
"We will continue to work with partners and stakeholders to press the case for Magee expansion.
"As part of that process, and demonstrating our confidence in and commitment to the city and campus, the university will today exercise its option to buy the Foyle and Londonderry College lands that we require if major growth at Magee is to take place."
The university had previously agreed to buy the lands of Foyle and Londonderry College when the school moves to a new site.