Northern Ireland pharmacists 'use loans to stay open'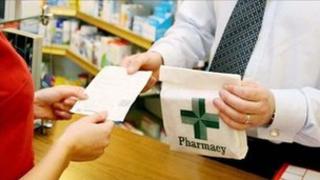 Pharmacists who work in the community have told the BBC they are resorting to bank loans and even cashing in pensions to keep their businesses open.
This is due to £38m worth of cuts to the community pharmacy budget imposed in April this year.
The outcome of a judicial review next week will rule on the way the changes were made.
It will also determine if they will deliver fair and reasonable funding for pharmacists.
The body which represents over 500 NI pharmacies, Community Pharmacy NI, says the 30% cut was too much too soon.
Ballymena pharmacist Lindsay Greer told the BBC the personal impact had been huge.
"Since April, each month has become more and more difficult," he said.
"In fact, I have had to seek emergency funding just to be able to operate, to be able to pay wages to two of my employees.
"The impact could eventually mean closing on Saturdays or just closing early."
Mr Greer owns two pharmacies in the area and said he is dedicated to helping people in the community.
"We are all dedicated and want to improve services - but that's hard to do when our budget has been cut."
According to Community Pharmacy NI (CPNI), dispensing fees have been cut, payments for drugs have changed dramatically and grants to pay for training are also affected.
Pensioner, Samuel Barr has lived in the town most of his life. He credits Lindsay Greer with not only changing his life but saving it.
"I had diabetes for over 12 years. It curtailed my way of life. About two months ago I was very ill and in danger of going into a diabetic coma," he said.
"I was hospitalised but then recommended that I attend the chemist for daily checks, which I did.
"The staff here take my blood pressure and blood sugar count daily. I was put on a weight management programme - I lost two stone. I'm fitter, healthier and I don't have to take insulin now. I'm a changed man."
It's people like Samuel that the CPNI says it wants to help and in doing so can help save the Health Service money.
According to Mr Greer treating patients in the community removes pressure from the GPs and the hospitals which saves the patient time and the service much needed cash.
"Patients like Sam can come in here every day to be checked," he said.
"As a result of getting his blood pressure and sugar levels down he's lost weight and doesn't need to take insulin. That alone saves the health service £600 a year. And that is just one patient."
Cashing in pensions
CPNI chief executive Gerard Greene said: "Since the budget cut, each month the effects have just ratcheted up significantly.
"So within the last few weeks, pharmacists are having to revert to banks for emergency funding just to keep afloat.
"We are also hearing that some of our members are cashing in their pensions early. They're doing this to put funding into their business, basically to stay open."
The Department of Health is attempting to make the service more efficient - Pharmacists believe that the recent cut to their budget was one way of making savings.
Mr Greene said while some areas of the sector are expected to make 5-6% savings, community pharmacists have been faced with 30% cuts.
"We're not asking to be treated any differently. What we are saying is that other sectors are faced with lesser savings, £38m in one year is just unworkable."
However, the department's view is slightly different.
It considers that there has been no change in the amount of recurrent funding that is available to local pharmacies. It also believes that the total amount for dispensing prescription fees remains unchanged.
But the CPNI's Gerard Greene disputed this: "The dispensing fees were £1.04, while now it is 49p."
The way in which medicine is currently prescribed and the volume of what's being prescribed over the counter has changed.
The Department of Health considers this may be impacting on pharmacies cash flow.
Whether or not the situation will change will depend on the outcome of a judicial review, brought by the CPNI.
The review is on remuneration and reimbursement arrangements put in place by the department of Health and Social Care Board in April 2011.
That decision is expected next week.