James Donaghy denies alleged victims' allegations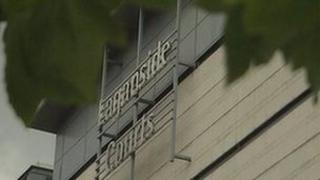 A former priest accused of sexually abusing three victims has denied committing any sexual impropriety against any of them.
James Donaghy, from Lady Wallace Drive in Lisburn, denies a total of 26 charges.
They relate to three males between June 1983 and December 2000.
Facing cross-examination at Belfast Crown Court for the second day, he maintained his innocence of all the charges against him.
Prosecuting QC Ken McMahon took each of the alleged victim's in turn, starting with Fr Patrick McCafferty.
Mr Donaghy told the jury that while he initially liked Fr McCafferty, the priest had since "vilified me since 2001" by alleging "the most outrageous things about me".
He also claimed that Fr McCafferty committed perjury in giving evidence whilst under oath, telling the court: "He has told lies about me."
Asked by Mr McMahon what Fr McCafferty's motivation would be to come to court to lie, Mr Donaghy said he was "not going to speculate" to which the lawyer replied: "I have to suggest that the reason he gave the account that he did is that these events happened."
'Years of abuse'
The accused also refuted specific allegations made by James Doherty.
Mr Doherty gave evidence that while he originally wanted to be a priest himself, he moved to England to get away from Mr Donaghy and the "years of abuse".
However, Mr Donaghy told the jury: "I never abused him."
The lawyer then turned to the third alleged victim, who cannot be named, who claims he was subjected to sexual abuse from the mid-1990s until 2000 when he joined a seminary to train to become a priest.
While giving evidence last week, the now 29-year-old man claimed Mr Donaghy had told him "he loved me and that he had loved me from the first time that he had set eyes on me".
He claimed he was first abused when he was around 14, that Mr Donaghy used the term "ice cream" as a code for abuse, that he would make up jobs for him to do so that his family let him stay around the parochial house, often staying overnight and that on almost every occasion, he was subjected to some form of abuse.
"I never abused him," Donaghy told the court on Wednesday, although he accepted he bought him various gifts over the years including a bed, a "very cheap" second hand car, mobile phone top-up cards and cash.
He said he had done so to support him and his family, including while he was a trainee priest.
Mr McMahon asked Mr Donaghy directly: "Were you attracted to him?"
The former priest denied that he was, replying: "No, I never told him that" and later added "there was no physical dimension to the relationship".
The trial continues.