Panel reviewing Northern Ireland assembly members' pay to meet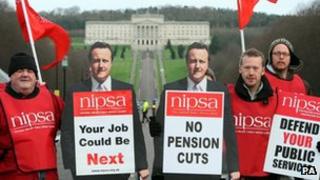 An independent panel tasked with reviewing assembly members pay is expected to meet later to discuss its first report.
It will also discuss whether MLA pension rights should be re-examined. The panel's consultation on pay will close on Thursday.
Finance Minister Sammy Wilson told the BBC he thinks Stormont ministers and MLAs should share in the pension pain.
The Independent Financial Review Panel is to publish the report in February.
It has also been reported the prime minister has asked cabinet ministers to set an example by paying more for their pensions.
MLAs pay is significantly lower than their Welsh and Scottish counterparts, but their pension rights are broadly the same.
Elected representatives enjoy much higher final salary pension rates than those of public sector workers.
Last month, unions representing those working in the public sector held a UK-wide strike over government planned changes to their pensions.
The government proposed public sector workers should contribute more to their pension, would have to work for longer before they could retire and the pension would be based on a person's average pay, not their final salary.