Scams are costing Northern Ireland shoppers '£100m' a year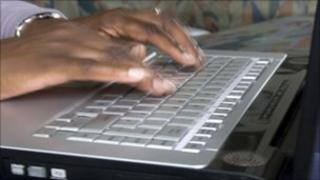 Christmas shoppers in Northern Ireland have been warned to be on their guard against the top five retail scams.
The Department of Enterprise's Trading Standards Service has issued the appeal.
It said scams are estimated to cost NI consumers £100m every year.
This year's top five festive scams include fake credit providers promising fast loans online and "I've been robbed" emails asking for money.
The other scams are fraudulent software support companies phoning to say your computer has a virus which is stealing all your bank details, fake websites selling counterfeit goods and "free trials" of slimming and beauty products which actually commit you to large monthly payments.
Damien Doherty of Trading Standards Service (TSS) said there had been about 50 complaints since the start of November about the purchase of counterfeit goods online.
He said the majority related to fake Ugg boots and GHD hair straighteners.
"People will see a website which says UK Ugg boots, UK GHD," he said.
"If it is a .co.uk the website is registered in a domain in the UK, if it is .com it can be registered anywhere in the world.
"The majority of the counterfeit websites are actually Chinese websites, you can do a 'who is?' check online which shows you where the website is registered, if it is China or the Far East, the chances are the goods are fake.
"While we may all think that we are too canny to get caught out by the scammers, evidence shows otherwise."
'Industry'
Mr Doherty said the current uncertain economic climate was "providing an ideal opportunity for scams to thrive" and that TSS was "being inundated daily with complaints".
"This is a multi-billion pound industry, the reason they get away with it is the consumers love a bargain," he added.
He said he was aware of hundreds of people who had lost anything from £150 to £5000 in fast loan schemes.
"A lot of people have lost a lot of money they can ill afford," he added.
Anyone who has been the victim of a scam or has information about a suspected scam can contact Consumerline, which is run in partnership between the Consumer Council and the Northern Ireland Trading Standards Service, on 0300 123 6262.