Civil servant lacked credibility over Crossnacreevy land sale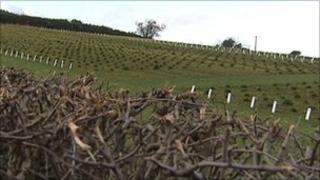 The most senior civil servant in the Department of Agriculture has been heavily criticised over the proposed sale of land in County Down.
The assembly Public Accounts Committee (PAC) has questioned the evidence provided by Gerry Lavery.
It claimed he was "lacking frankness, openness and credibility".
The department had valued the land owned in Crossnacreevy at £200m but a later evaluation by the Land Property Services said its true worth was £2-5m.
The initial valuation was the means the department used to secure almost £90m of extra funding from the Department of Finance.
The PAC investigated the matter and questioned officials, including Mr Lavery, from the Department of Agriculture.
As a result it has written an extremely critical letter to the head of the civil service, Dr Malcolm McKibben, raising questions about Mr Lavery's credibility.
Mr Lavery was responsible for all the department's financial transactions and the PAC called his original valuation "astonishing".
He was recalled by the committee and after more questioning the committee was so concerned it reported the matter to the head of the civil service and the Department of Finance accounting officer.
Mr Lavery has not yet responded to the report.
The chair of the PAC, Paul Maskey, said that Mr Lavery's future is now in question.
"It is rare that we would write to the head of the civil service because it is not our job or our remit and we have not got the power to call for someone to be sacked," said the Sinn Fein MLA.
"We have asked Dr Malcolm McKibben to reflect on the serious nature of our report.
"It is very bad practice when a senior civil servant comes to our committee and is less than open with the members on it.
"It is Dr McKibben's task now to do whatever he thinks or feels is appropriate on this matter."